Many construction or renovation materials brands frequently have product lines that are labeled specifically "for industrial use". This is often a connotation of endurance or resistance. Why is this so? It could be because in the manufacturing field environments are often encountered with conditions that would never happen in a residential environment. Some of these conditions include high temperatures, corrosive fumes, abrasion, etc. This means that products designated "industrial" must be made out of component substances that allow them to survive these environments. A brand that provides resources for construction catering to a wide range of applications, must consider the requirements of industrial endeavors. Their safety and survivability requirements must be properly fulfilled. To this end, here are the top 10 Stabilit industrial solutions that cater to these needs.
Learn about great industrial applications from Stabilit America
For over 72 years, Stabilit has built experience and legacy as a producer and distributor of plastic laminates. Through its product offering, Stabilit has positioned itself as the leading manufacturer of fiberglass reinforced plastic panels in North America. 
For Stabilit, a high priority is to bring materials to the market with great added value. This is why we work to incorporate cutting-edge technology into our distribution centers. We also meet globally-recognized quality standards, a key factor to be at the lead in the industrial and corrosion-resistant product segment. We have put years of research and the knowledge of many experts into developing the top 10 Stabilit Industrial Solutions.
  1. Tred-Safe
A truly walkable translucent roofing panel, Tred-Safe is strong and tough. It has no problem supporting the weight of maintenance workers, allowing them to walk safely over an entire roof area without needing to make any special adaptations to it. Not only is it truly walkable, but it is also weather, corrosion and fire resistant.  
2. Acrylit
Acrylit sheets are fabricated with 100% acrylic resin and reinforced with fiberglass. Acrylit is a translucent sheet that allows for the diffusion of sunlight. This is different from transmission, because by spreading up to 95% of the sunlight, areas of perceived gloom indoors are highly reduced. 
Adding Gelcoat finish on both sides increases the useful life of Acrylit, as well as its endurance. When you use Acrylit, your indoor space benefits from UV ray protection, and of course, the energy savings resulting from harnessing sunlight. 
3. Resolite FS25A
These panels are effective in spaces where fire retardance and corrosion resistance are a necessity. Resolite FS25A is made out of high quality isophthalic halogenated polyester resin, with added acrylic modification and UV stabilization for excellent weather resistance.
4. Opalit 
These FRP panels for industrial use are corrosion resistant. They also work well in outdoor installations. They are designed to endure humidity, pollution and UV rays (thanks to their Gelcoat coating). They have excellent strength and heat insulation qualities. Opalit panels can be used in conjunction with Glasteel transparent panels.
5. Tred-Safe DECK
This solution replaces outmoded wood or metal coverings, as well as other systems that are no longer optimal. By being walkable and highly resistant to weight, Tred-Safe is a secure work platform even in highly corrosive environments. It is ideal for use in chemical or metallurgical operations. Other uses include as support for a covering system (composite or simple), as a traditional cover in pulp mills, or as a shaper for reinforced concrete slabs. 
6. Macrolux Rooflite
Corrugated polycarbonate sheets are used in agroindustrial, residential and commercial applications. Manufactured with high-tech polycarbonate resin, these sheets are 250 times stronger than glass, with the advantage of being light and able to protect from a multitude of weather conditions. 
Besides impact resistance, Macrolux Rooflite brings UV protection, fire resistance and excellent natural light transmission. Because of this it is a favorite of greenhouse operators everywhere. 
7. Macrolux Systems
The Macrolux systems of specialized polycarbonate are the ideal material for dividers and ceilings in both industrial and civil construction. Some of the benefits of these sheets and systems include: great sunlight transmission, ease of installation, lightness, UV ray protection and high endurance. 
8. Macrolux Multiwall
These cellular polycarbonate sheets are good for industrial, architectural, residential, commercial and greenhouse applications, as well as for manufacturing. Made out of high-tech polycarbonate resin with a protective layer for UV-ray resistance, these sheets make your structure aesthetically pleasing and resilient. Macrolux Multiwall is fire retardant, transmits natural light, can resist acid rain and provides thermal insulation. 
9. Glasliner
This is our hygienic covering designed for spaces where rigorous sanitary protocols are in effect. Glasliner is a plastic laminate that works well as a coating for walls and ceilings–although also effective as a raw material to make other products. It is made with polyester reinforced with fiberglass. It is the ideal option for spaces where cleanliness, resistance (to impacts, corrosion, humidity and chemicals), protection and aesthetics are important. 
Glasliner maintains its original appearance even after being washed many times with harsh cleaners. It is an ideal choice for healthcare, commercial, institutional, industrial and even residential applications. 
10. Steeliner (FRP coatings for ceilings and interior walls)
This fiberglass panel with high resistance works as a coating for ceiling and interior walls of transports. Steeliner is light, long lasting, and impact, abrasion, humidity and oxidation resistant. On top of that, it is easy to clean, making it the best material for dry or refrigerated trailers, ambulances and delivery trucks. 
At Stabilit America we work hard to provide effective solutions for projects that require plastic and polycarbonate panels. Industrial, commercial, residential and transportation applications have very different needs and challenges. We invite you to get to know our wide product range which will bring strength, endurance and aesthetics to your structures, regardless of your field of endeavor.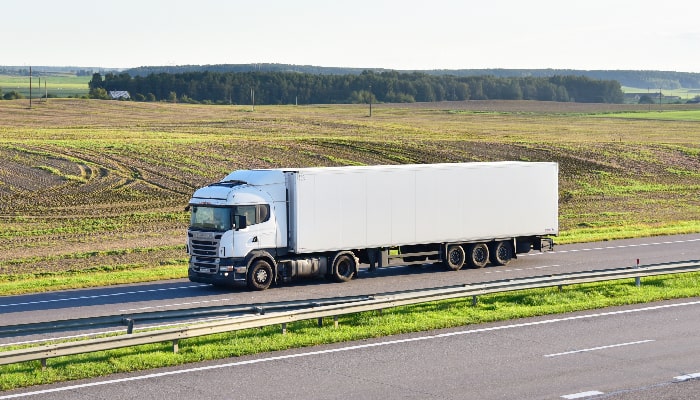 We know industry at Stabilit America
Stabilit America's products bring a variety of benefits to industrial applications. Our fiberglass-reinforced polymer panels and polycarbonate sheets have been engineered to withstand the rigors of industrial use, offering unparalleled durability and strength. This longevity not only ensures the structural integrity of your projects but also offers significant cost savings over time, reducing the need for frequent repairs or replacements. Furthermore, the high compatibility of our products with various industrial environments and construction techniques means they can be seamlessly incorporated into a wide range of projects, from large-scale manufacturing facilities to compact storage units.
But the advantages of our products go beyond just strength and compatibility. They are also designed with specific features to meet the unique demands of industrial applications. You can trust us to know what your industrial project needs, and deliver products that perform.