The world of architecture and construction is always rapidly changing, as new construction materials with new performance features come out. Polycarbonate, a versatile thermoplastic polymer, has emerged as a preferred option for architects and builders. This is because of its outstanding properties and many advantages over traditional building materials. As a translucent material–which means it lets the sunlight in–polycarbonate is a great alternative to glass, and can be used for similar projects. Keep reading to understand the benefits of this modern material.
Trust its strength
Why use polycarbonate in architecture and construction? Consider strength. Polycarbonate is known for its superior strength and durability. When compared to glass, this advantage truly stands out. You may be surprised to know that polycarbonate can endure an impact 200 times greater than glass, while it weighs only half of what a similar glass solution would! This makes it an excellent material for use in areas that are at risk of damage, or extreme weather. Examples of situations like these could be in industrial situations where heavy objects or machine parts are often being moved around, or in farms prone to very strong winds where heavy objects could be blown into a window. 
What is even better is that polycarbonate sheets hold on to their physical properties over time, resisting degradation from UV light, the elements, and intense temperature fluctuations. This means that they perform very well in desert conditions, for example, where the temperature could be cold in the morning and very hot in the middle of the day. This kind of stress, day in and day out, can easily wear out lesser materials. The longevity of polycarbonate reduces the need for frequent replacements, saving on maintenance and repair costs.
Design anything
One of the most noticeable benefits of polycarbonate is its remarkable design flexibility. You can virtually say that your imagination is the limit! Polycarbonate is available in a variety of colors, finishes, and shapes, and it can be molded or formed into almost any desired form. This versatility enables architects to break free from traditional design constraints, fostering creativity and innovation. Whether it's for creating curved surfaces, translucent walls, or intricate architectural details, polycarbonate offers endless possibilities. Its lightness also contributes to this benefit because a lighter material can be more easily lifted to places that are difficult to reach. Installation is less dangerous and complicated, allowing for the implementation of more complex solutions. 
Keep out heat, cold and noise
Polycarbonate sheets, particularly multi-wall panels, provide excellent thermal insulation. They trap air within their multiple layers, minimizing heat transfer and making buildings more energy-efficient. This can significantly reduce heating and cooling costs. If you want your project to be environmentally conscious for the long term, polycarbonate is the way to go, especially when it comes to building energy-efficient buildings. Additionally, polycarbonate has excellent acoustic insulation properties, making it suitable for environments where you want to keep the noise out (or in).
Let the sunshine in
Polycarbonate is highly transparent, allowing over 90% light transmission. This makes it ideal for creating well-lit spaces, reducing the need for artificial lighting during the day. It also creates visually appealing architectural features, such as skylights, facades, and interior partitions. Polycarbonate's capacity to diffuse light evenly, without casting shadows or creating hotspots, enhances its utility in situations where light transmission–but not harsh light–is desirable. Greenhouses are an obvious perfect application for this material, as it provides the right mix of performance and features. 
Install, handle and move easily
It is worth mentioning again that polycarbonate sheets are lightweight and easy to handle. They significantly reduce installation time and labor costs compared to heavier materials like glass or metal. Just think about how much glass a large building can need, and how heavy it is to move that amount of glass. The difference in cost of fuel alone, depending on where your project is located, could be significant. What about dropping some of that glass accidentally? It could be very dangerous and expensive! 
Polycarbonate sheets can be cut and shaped on-site using conventional tools, further simplifying the installation process. This ease of installation, combined with its durability and low maintenance, makes polycarbonate a cost-effective choice for a wide range of construction projects.
Fight fire
The threat of fire is always present in any residential, commercial or industrial space. This makes it important to consider your choice of materials so that they respond well to this unfortunate, but real, possibility. In addition to its many other advantages, polycarbonate also has great fire resistance. It has a high ignition temperature–this means the fire has to get very intense to even set polycarbonate on fire–and self-extinguishing properties–this means even if it were to be set on fire, it will tend to put itself out. Having a material in your building that actually slows down the spread of flames brings great peace of mind. Polycarbonate is a safer alternative in construction applications, particularly in public buildings, where adherence to stringent fire safety standards is paramount.
Help the environment
Finally, polycarbonate is recyclable, aligning with the growing global emphasis on sustainable construction practices. Its production and recycling processes are less energy-intensive than those of many traditional building materials, contributing to a lower carbon footprint. Moreover, its durability and longevity mean fewer replacements over time, further reducing environmental impact.
In conclusion, the use of polycarbonate in architecture and construction offers advantages. Its incredible strength, design flexibility, superior insulation properties, transparency, ease of installation, fire resistance, and environmental friendliness make it a compelling choice for architects and builders looking to create aesthetically pleasing, durable, and sustainable structures. Now you know why to use polycarbonate in architecture and construction As we continue to strive for innovation and sustainability in architecture and construction, polycarbonate will be a great ally.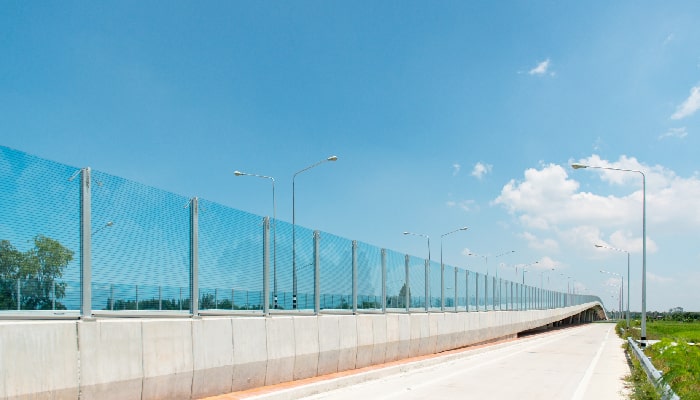 Stabilit America: moving construction materials forward with innovation and technology
Stabilit America is leveraging technology to pioneer innovation in the field of construction materials. This technology-driven approach is consistent across our multiple brands, which specialize in different areas of the construction materials industry. For example, Glasteel, a subsidiary of Stabilit America, is the leading manufacturer of fiberglass reinforced plastic (FRP) panels in North America. By leveraging advanced manufacturing technologies, Glasteel provides the largest selection of FRP, Polycarbonate, and PVC panels available on the market.
Another example of Stabilit America's commitment to advancing construction materials with technology is the work of Resolite FRP Composites. Since its inception in 1951, Resolite has provided architects, engineers, contractors, and building owners with high-quality FRP panels, leveraging technology to produce industrial and corrosion-resistant products for roof and wall construction. We focus on creating products of exceptional strength and durability, which has allowed us to deliver cost-effective construction solutions to our clients. Stabilit has introduced lightweight FRP liner panels for the transportation industry, offering a superior performance against weathering and added value through lower maintenance costs and fuel consumption savings. Macrolux USA offers high-strength polycarbonate panels, meeting multiple requirements in terms of light transmission and heat reduction in most structures. Through these applications of technology, Stabilit America is indeed pushing the boundaries of construction materials.
Stabilit has a material that fits your needs. Contact us y and find out more about how we can help!