It is highly beneficial and enjoyable when buildings or facilities successfully harness natural light to improve the experience of a building or space. From windows to canopies and ceilings, transparency, and the way sunlight is directed or diffused, enhances the experience of a place. Good use of sunlight turns four walls into a stage where the outside and the inside seem to come together. This is what you can achieve if you have the right transparent roofing sheets at your disposal. Not to mention the energy savings–and environmental benefits–from not needing all that artificial lighting!
In the past, architectural projects could face limitations with the lack of availability of materials with great performance features. Fortunately, science and technology have advanced to a point where there are excellent materials that offer strength and transparency, as well as advanced technology. Technology brings forth sought-after features including UV protection, ease of handling and assembly, low maintenance, and weather resistance, among many others. 
Transparent roofing sheets are the answer: take of advantage of sunlight and save
Some roofing products have become very popular as a result of offering advanced features while also providing an aesthetic plus to any space. A great example of this are transparent roofing sheets. Although they can be made with different materials, there are some technologies that have prevailed and proven superior…we will talk more about that later. Nevertheless, light transmission remains the key feature why these types of roofing materials are chosen for construction projects.
Transparent sheets are very popular in architecture and design, because they provide a soft and diffused lighting effect without the need for harsh artificial lights. Also, by bringing in exterior light, they create an increased sensation of space. 
While these types of sheets have become popular for the creation of translucent roofs–especially for shopping malls, greenhouses, skylights, industrial spaces or as a tool to execute certain designs–there exist many more uses and applications. For example, they can be used as wall panels or dividers that still let some light through. The agricultural sector has found many uses for them.
If you are interested in all kinds of structures that take advantage of sunlight, you can also check out our content about translucent roofs for transportation solutions.
As opposed to other materials, translucent panels can work together with other products/technologies. They are easy to handle and combine well with different types of surfaces. Project managers like them because they come in different sizes and profiles, multiple different materials, and different formats. You can find the exact sheet that fits your ideal construction solution! 
Some of the general features / benefits of transparent panels include: 
Excellent cost-benefit ratio

Greater affordability than other materials

Corrosion resistance

Great performance in high-humidity environments

Savings in electricity because sunlight is used to illuminate interior spaces

Greater lifespan than other competing products

Some products include UV protection–such as Macrolux and Acrylit sheets from

Stabilit
What materials are used to make transparent roofing sheets?
As previously mentioned, these products come in different shapes and sizes, so the materials used to produce transparent roofing sheets are varied. It is common for them to combine fiberglass, polycarbonate, polyester and different kinds of resins, although some raw materials stand out:
Acrylic.

It is highly weather resistant and also performs as an electrical insulator. Lightness and long life are two of its greatest advantages. 

Polycarbonate resin.

Adds lightness and endurance, clarity and light transmission.

Fiberglass resin.

It is composed of numerous fine glass fibers, and its usual role is to reinforce other materials. 
What are Stabilit's transparent sheets?
Of course, Stabilit America offers transparent sheets that fit your structures. Some of their features are:
Impact resistance and ability to withstand exposure to chemicals

Acoustic insulation

Discoloration resistance

Resistance to corrosion and rust

General durability
Stabilit has six brands of transparent sheets–that come in different formats, with varied colors, profiles, lengths, caliber, thickness and width. 
Macrolux 
So strong they can be called "virtually unbreakable", Macrolux can even be used as security glass. Macrolux Multiwall sheets are made with a high-tech polycarbonate resin and a protective coating to make them resistant to UV rays. 
In addition to being strong and impact-resistant, Macrolux sheets resist acid rain, transmit natural light very efficiently, are fire-retardant and even have thermal and acoustic insulation features. You can find the solution you need in Macrolux Multiwall. 
For greenhouses, ceilings and canopies, Macrolux Rooftlite is 250 times stronger than glass–and UV and weather resistant–but light, easy to handle and easy to install. 
Acrylit
These sheets are oriented to industrial use. They are made with 100% acrylic resin and fiberglass is added for strength. They can diffuse natural light up to 95%, reducing perceived gloom in interior spaces. Acrylit products are finished with Gelcoat on both sides, making them more resistant and durable.
Polylit
When you need a strong cover that can be quickly and easily installed, Polylit fits the bill. Made with polyester reinforced with fiberglass, Polylit sheets can be installed using conventional means. These sheets are fit for outdoor conditions and are chemical-resistant. 
Macrolux AM
Antimicrobial panels can help reduce microbes and bacteria on surfaces by 99.9%. They also effectively transmit light, which benefits plant growth in agricultural applications. If your project needs to meet FDA standards for consumable product processing, Macrolux Anti-Microbial is a proven solution that has a solid track record of getting the job done.
Tred-Safe 
A walkable fiberglass panel, Tred-Safe can be trusted to be super tough. It is designed to support foot traffic and is corrosion resistant. UL fire rated, weatherproof and UV stabilized, it is highly durable and not prone to degradation. Tred-Safe is made from high quality resin with fiberglass reinforcement and a protective coating.
Acrylit for greenhouses
Delicate plants need to catch sunlight from multiple angles, to optimize their growth and keep them stress-free. Acrylit for greenhouses is strong, impact resistant, and works well with the chemical products usually present in greenhouse environments. Its 95% diffused light transmission, in the right wavelengths to support plant-growth, make it the perfect partner to promote plant growth. 
Product choice and installation matter
At Stabilit America we use advanced technologies and strict quality control to deliver products that get the job done for the long haul. But keep in mind that durability and effectiveness also depend greatly on matching the right materials to the right situation, and proper installation. This is why you should consider your needs carefully–product performance and environmental resistance–and choose the product that is the best fit for your project.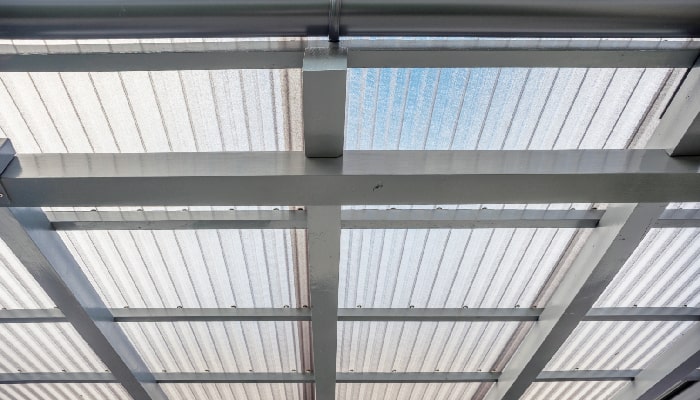 Stabilit America: technology, strength, quality and aesthetics for every one of your projects
At Stabilit America we produce and distribute materials that truly support your success. For construction, remodeling or even transportation projects, our quality and technological innovations deliver results. Whether you want strength, durability, a better cost-benefit ratio, light transmission, compatibility, thermal insulation or UV protection, we have the key material to get you where you are trying to go.  
We manufacture fiberglass-reinforced polymer panels and polycarbonate sheets that can integrate effectively into any modern construction project. They provide benefits such as UV protection or microbe resistance, depending on the needs of your project. Which of our solutions is the best fit for your needs?
Interior and exterior walls, roofs, covers, skylights, canopies, luggage and cargo boxes, truck walls…for any industrial, institutional, commercial or transportation project, Stabilit has a material that fits your needs. Contact us y and find out more about how we can help!